Powder Coating
I&M can meet your metal finishing needs with our fully automated powder coat line or our wet coat line. We can color match or use one of thousands of standard colors available.
INDUSTRIAL METAL FINISHING & POWDER COAT

We can also handle your large or odd shaped parts in our powder coat batch oven, with a 10′ x 12'x 32′ capacity.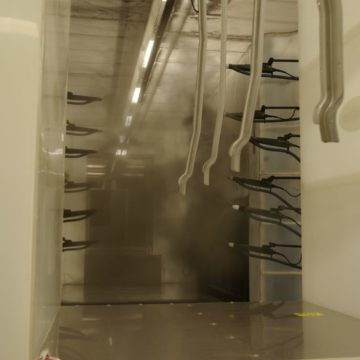 What We Can
5-stage stainless steel
washer system
I&M has a large capacity, high-speed, state-of-the-art fully
automated powder coating line featuring a 5-stage stainless steel
washer system with part size up to 4′ x 6′ x 12′. Your parts are start
to finish in 1 ½ hours
Location
I&M MACHINE & FABRICATION
401 S 3RD ST
St. Joseph, MO, 64501
Contact
Need additional assistance? Please contact us:
(816) 233-6841
Hours
We are open Monday to Friday, from 8:00 am to 5:00 pm.