Tube Laser
I&M has the most technologically advanced equipment to handle tubular steel.
What we can
These machines can cut regular steel up to 5/8″ thick and Aluminum &
Stainless up to ¼" thick. They can load and unload material up to 26′ long
with a max 8" diameter chucking capacity.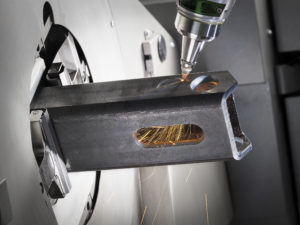 Our Tube Laser department is equipped with fiber and CO2 BLM Adige Laser Tube LT8s. Our tube laser cutting systems are specialized for square, rectangular, and round tubing. It will also cut specialized shapes such as E shaped, oblong, channel and angle iron.
Location
I&M MACHINE & FABRICATION
401 S 3RD ST
St. Joseph, MO, 64501
Contact
Need additional assistance? Please contact us:
(816) 233-6841
Hours
We are open Monday to Friday, from 8:00 am to 5:00 pm.